July 27-August 4, 2019

Facilitators
Ayşe İdil İdil
İdil completed her bachelor's degree at the School of the Art Institute of Chicago. Her works, which document the possibility of sincerity, indicate the disconnections encountered in different kinds of translations. Her first solo show An absent door, always open took place at Poşe in 2018. She hosts two radio shows, Mehtapta Safari and Kirli Çakı, on Radyo Modyan. She is an Arter Research Program 2019 participant.
Deniz Kırkalı
She is a curator and researcher based in Istanbul and London. She was the curator of My Dear Friends at Depo; and the assistant curator of the 10th BACA Award Exhibition at Bonnefantenmuseum, the Pavilion of Turkey at the 58th Venice Biennale, and BAHAR, the Istanbul offsite project of Sharjah Biennial 13. She has co-founded a curatorial and research collective called topsoil with Amelie Wedel and Sofia Villena Araya. She is currently doing a PhD in Curatorial/Knowledge at Goldsmiths, University in London.

Participants
Larissa Araz
Larissa Araz (1990) produces works in a variety of media including text, video, image and sound. Through a personal viewpoint, she focuses at the topics of history, identity, memory and belonging that are included or not included in social memory. The questions that are not answered by history that we repeatedly ask ourselves-or not anymore- are the main threads of an existential research of Araz. She founded Poşe Artist Run Space in April 2018. Poşe is conceived with an urge to establish a community. It is a physical and mental open-space for those who feel the need for dialogue and critique. Poşe have displayed many exhibitions including solo and group productions along with public programing and other contents.
Gülşah Mursaloğlu
Gülşah Mursaloğlu (1989, Istanbul) completed her BA in Sociology at Boğaziçi University and received her MFA degree from the School of the Art Institute of Chicago. In her works, she explores materiality, matter's agency and human and non-human temporalities. Her installations, which emerge after an in-depth and extensive research process, don't remain stable in form, and rather manifest themselves as dynamic and fluid systems through their ephemeral nature. Recent exhibitions include "Material Play", Salisbury University Galleries, Salisbury, USA (2019); "Pandora's Black Box", Galata Rum Okulu, Istanbul (2019); "YFD 10: One Must Continue" Zilberman Gallery, İstanbul (2019); "A Notation, for Every Crossing", poşe, İstanbul (2019); "An Internal Garden", Depo, Istanbul (2018); "Artificial Life", Chicago Artists Coalition, Chicago, USA (2018); "Other Hours", 601 Artspace, New York, USA (2017) and "For Rent, For Sale", Protocinema, İstanbul (2017). She has participated in artist residencies at SAHA Studio, Istanbul (2020); Sundaymorning@ekwc, Oisterwijk, Netherlands (2019); Oregon College of Art and Craft, Portland, USA (2016) and Scuola Internazionale di Grafica, Venice, Italy (2013).
Aslı Özdoyuran
Aslı Özdoyuran is an artist and researcher living and working in İstanbul. She holds a BFA in Sculpture and a BA in Visual and Critical Studies from the School of the Art Institute of Chicago. While in school and after graduation, she worked as Michael Rakowitz' s production assistant, installing his exhibitions across the US, Europe and the Middle East. In Chicago, she co-run an artist initiative supporting on-site production and discussion. For a year, she interned as Curatorial Research Assistant at Sculpture Center in NYC. In Istanbul, she assisted Banu Cennetoğlu in her continuous projects, the List and 14.05.2019. She participated in artist-run residencies focusing on land and bio-colonialism in Hawai'i islands (Summer Forum) and Palestine (Sakiya). Currently working in Arter Museum's Learning Program where she is engaged in organizing workshops and interpretation events, Aslı continues her material research on sessility, and in particular; sleep.
Ezgi Tok
Ezgi Tok lives and works in Istanbul. Her works contemplate relations, systems and standards through a close look at the subtle. It often takes the form of documentation of repetitive gestures involving futile attempts to measure, organize, label or define natural occurrences, habits, or simply the passage of time.  She has participated in many exhibitions, programs and residencies.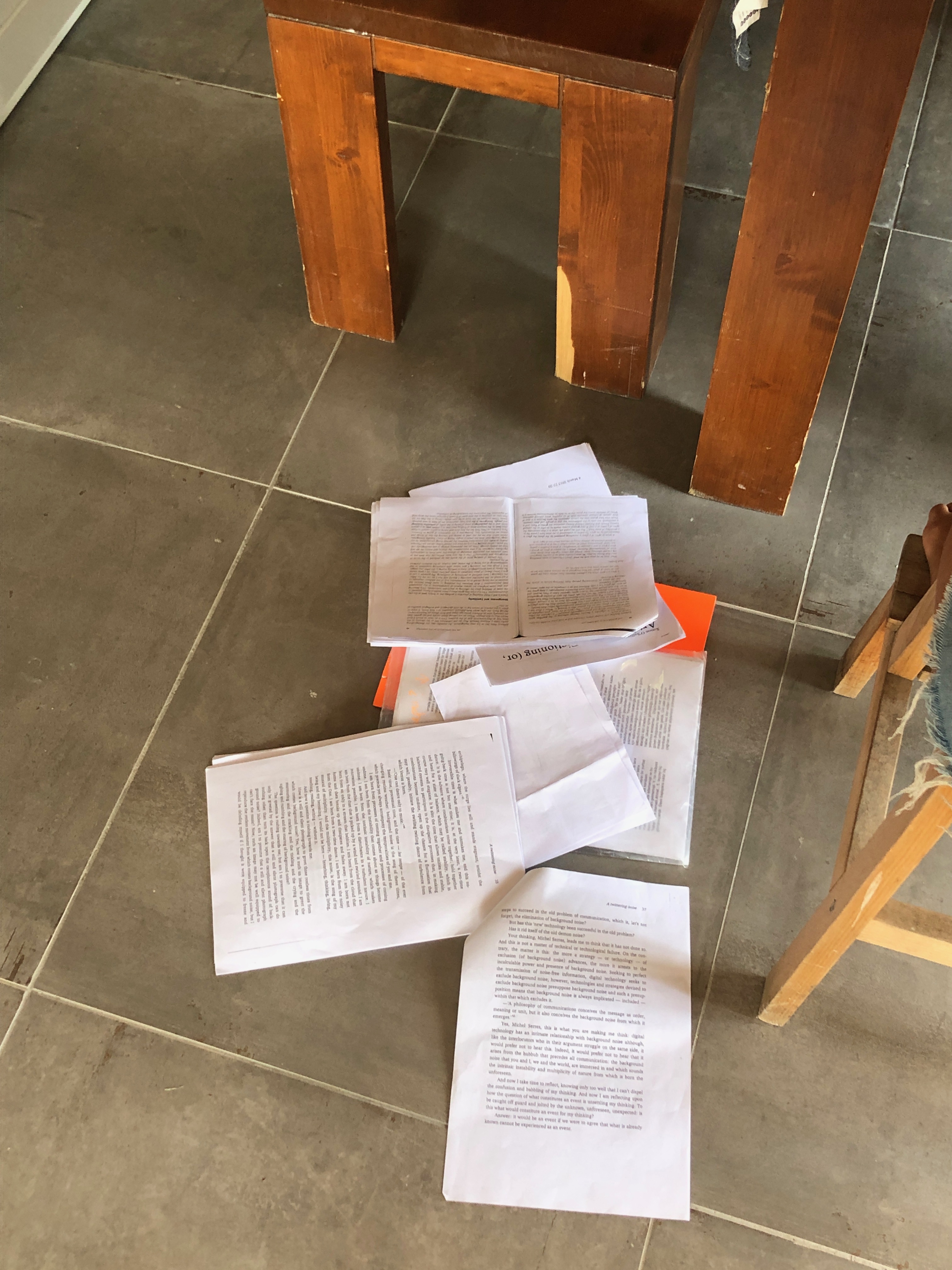 Reading List
Preliminary Readings
De Canales, Francisco Gonzalez, "The Conflicting Vernacular."in Experiments with Life Itself: Radical Domestic Architectures between 1937 and 1959, Barcelona and New York: Actar, 2012, pp. 34–63.
Grosz, Elizabeth, 2008, "Chaos. Cosmos, Territory, Architecture." in CHAOS, TERRITORY, ART: Deleuze and the Framing of the Earth, New York: Columbia University Press, pp. 1–24. 
Haapala, Arto, 2005, "On the Aesthetics of the Everyday: Familiarity, Strangeness, and the Meaning of Place," in Andrew Light and Jonathan M. Smith (eds.), The Aesthetics of Everyday Life, New York: Columbia University Press, pp. 39–55. 
O'Sullivan, Simon (2014), "Art Practice as Fictioning (or, myth-science)", diakron, No:1. 
Lomax, Yve (2005), "Twittering Noise" in Sounding the Event: Escapades in dialogue and matters of art, nature and time. London: I.B. Tauris.
Readings by Participants
Bratton, Benjamin H. "We Need to Talk About TED". 2013. http://www.bratton.info/projects/talks/we-need-to-talk-about-ted/.
Davis, Heather. "To Breathe in the Cosmos." In Aerosolar Journeys, by Tomas Saraceno, 7-11.
Dipesh Chakrabarty, "The Climate of History: Four Theses," Critical Inquiry 35, no. 2 (Winter 2009): 197-222.
Kortun, Vasif. "SON" in "20". SALT, 2018.
Lavin, Sylvia. "The First Kiss" in Kissing Architecture. Princeton University Press, 2011.
Shotwell, Alexis. "Complexity and Complicity" in Against Purity: Living Ethically in Compromised Times. University of Minnesota Press, 2016.
Steyerl, Hito. "Politics of Art: Contemporary Art and the Transition to Post-Democracy". 2010.
Tsing, Anna Lowenhaupt. The Mushroom at the End of the World: On the Possibility of Life in Capitalist Ruins. Princeton; Oxford: Princeton University Press, 2015.